Aluminum Exterior/interior Column Cladding
Aluminum Exterior/interior Column Cladding
TUODELI

FOSHAN-CHINA

10-15 DAYS

1000 ㎡ /DAY
●Aluminum Column Covers has the advantages of light weight , high strength , well regidity and easy to be shaped,the 3.0mm thickness aluminmum panel of strenth extention is 100-280N /m2.
●PVDF surface painting give the product strong weather-resistance and anti-UV characteristic ,ensuring that the color and the gross would keep away from fading or corrosion in a long term over 15 years even in the use of a really bad situation.
●Good weather-resistance and anti-corrosion , the surface paint layer is Kynar-500、hylur500 PVDF, 25 years guarantee.
●Well processing ability. The material can customized many shape like curving shape, spherical shape and other complex shape.
●Recyclable and eco-environmental. Comparing with other decorative material like glass, stone, ceramic ,the aluminum column have high recycling scrap value.
1.Aluminum Exterior/interior Column Cladding introduce:
Carved aluminum cladding, CNC carved aluminum enveloped column, Molding envelope aluminum cladding, Transparent arc
aluminum clad column, Transparent perforated single plate aluminum clad column, aluminum column cladding according to the
drawings and user requirements to design and produce a variety of shapes, irregular non-standard, special-shaped plate, according
to the designer Imaginative space requirements, to achieve a beautiful decorative effect! The coating USES American PPG,
American Valspar, Dutch AkzoNobel AkzoNobel, Korea KCC and other well-known brands of coating, coating is divided into two
coating a baking, three coating two baking, its coating performance reaches AAMA (American building manufacturers association)
and ASCA (American building spraying association) aama2605-98 standards. General width: 600*600mm,600*1200mm; Up to
1500*4000mm (other sizes can be customized), arc small curvature up to 1000mm, panel length up to 6000mm.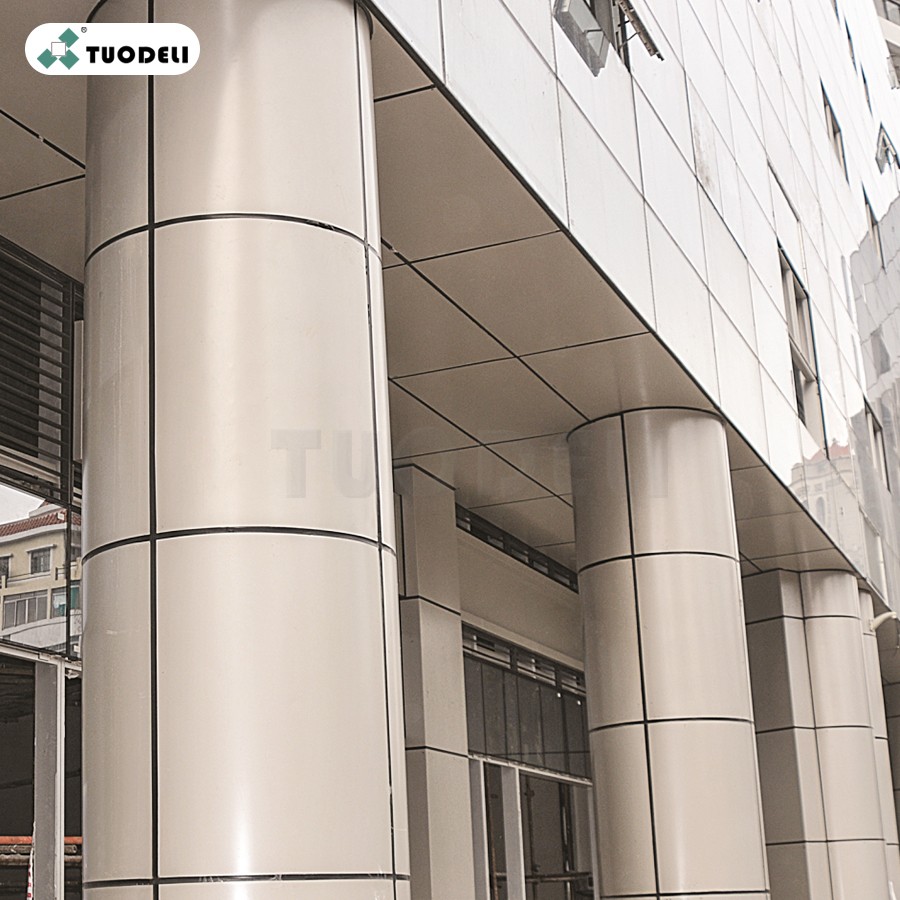 2.Aluminum Wall Caldding Installation:


Today a lot of Concrete column, Steel structure column use aluminum column decoration, specially in aluminum column cladding
Wrap in a circle to make it more artistic. The aluminum plate forming process is the first good material four fold edge, and then
rolling arc. Aluminum Column Cladding is more artistic.The bending edges of the aluminum plate of the envelop arc are used for
fixing the corner code to the square tube frame, and are fixed by tapping screws on the conventional aluminum veneer.
The aluminum plate of envelop usually achieves the light transmission effect through hollowing out. This kind of hollowing out aluminum
plate of envelop is often used for interior decoration. The acrylic transparent plate is pasted in the hollowing area of aluminum plate.
The thickness of aluminum plate is recommended to be 2.0-2.5mm.
The aluminum plate of envelop can be installed in the form of glue filling for remaining seam or in the form of tight fitting installation.
If it is hollow-out transparent aluminum veneer, glue filling for remaining seam will not leak light, the effect will be better.