Anodized Aluminum Interior Wall Caldding
Anodized Aluminum Interior Wall Caldding
TUODELI

FOSHAN-CHINA

10 DAYS

1000 ㎡ /DAY
● After anoidize surface treatment, the character of anti-corrosion, stength, scretch-resistance, insulativity ,heat-insulation will highly boost.
● Good processing feature, well-designing, excellent hardness.
● It is easy to bent and shape.
● 15 year guarantee for the surface color and quality.
1. Dscription of Anodized Aluminum Oxide:
The thickness of anodic aluminum oxide film is generally 5-20 m, and the thickness of hard anodic oxide film is up to 60-250 m.
The film is firmly combined with the matrix metal, and has high corrosion resistance, wear resistance and hardness.
The porous oxide film has strong adsorption capacity and is easy to be colored with organic dyes.
Anodized aluminum plate is more commonly used, the basic introduction is as follows:
The substrate of anodic aluminum oxide:
Anodic aluminum oxide (aao) has a high requirement on aluminum substrate, and the purity of aluminum as aao is quite high.
Of course, the higher the purity of aluminum, the higher the price, which is one of the reasons for the high price of anodized aluminum.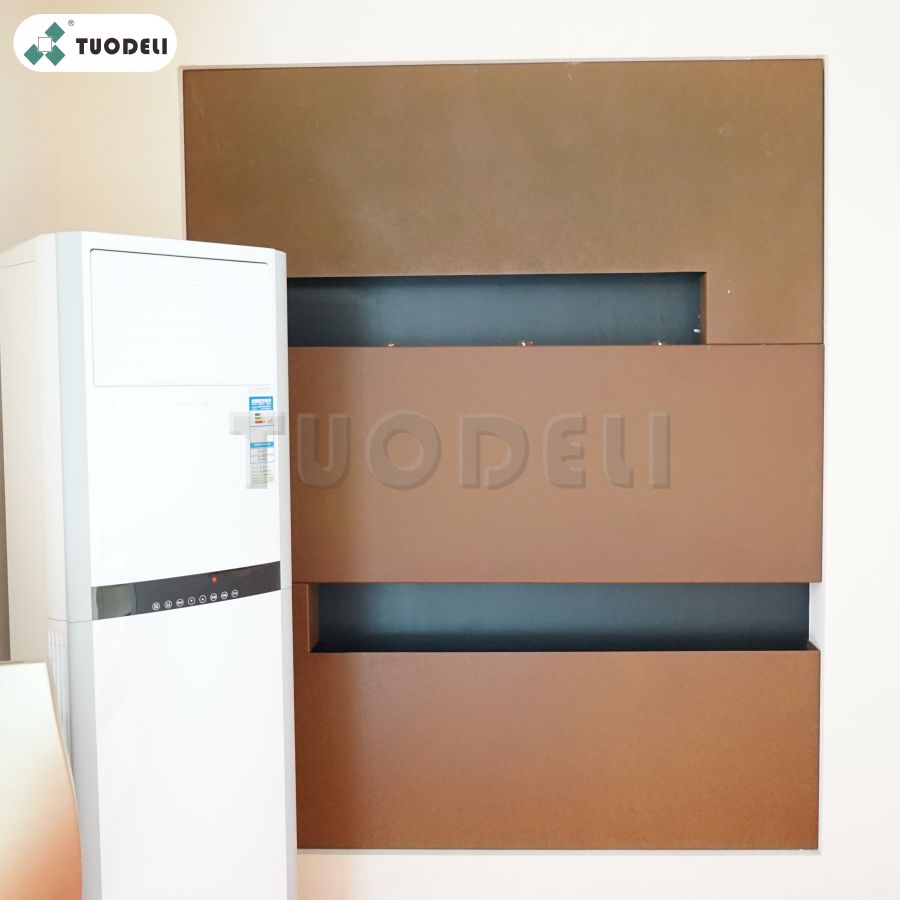 The type of anodized alumina ceiling
1. Wire-drawing series (short wire-drawing, coarse wire-drawing, long wire-drawing, cross wire-drawing and net wire-drawing);
2. Matte series
3. Mirror series
4. Sand surface series
5. Embossed series (hammer, refrigerator, sun, stripes)
6. Tai chi series: endless variation of Yin and Yang.
2. Anodized Aluminum Interior Wall Caldding Advantages:
Anodized aluminum plate with oxide film (10 m) can be used indoor/outdoors and can be exposed to sunlight for a long time
without discoloration.
(1) strong sense of metal: anodized aluminum plate surface hardness, up to the gemstone level, good scratch resistance,
the surface is not covered with paint, retain the aluminum plate metal color, highlight the modern metal sense, improve
product grade and added value.
(2) high fire resistance: pure metal products, no paint or any chemical substances on the surface, no burning at 600 degrees,
no toxic gas, in line with the fire protection requirements.
(3) strong stain resistance: no fingerprints, no stains, easy to clean, no corrosion spots.
3. Anodized Aluminum Interior Wall Caldding Features:

● Super peeling strength
● Excellent surface flatness and smoothness
● Superior weather, corrosion, pollutant resistance
● Even coating, various colors
● Fireproof, excellent heat and sound insulation
● Superior impact resistance
● Lightweight and easy to process
● Easy to maintain, self-clean
3.Anodized Aluminum Color :