Marble Aluminum Honeycomb Panel
Marble Aluminum Honeycomb Panel
TUODELI

FOSHAN-CHINA

10-15 DAYS

1000 ㎡ /DAY
●Marble aluminum honeycomb panel have coating marble colour and real marble surface with aluminum honeycomb.
real marble honeycomb panel most use outdoor cladding decoration also are rigidly tested for extensive severe external conditions to protect the building against noise and sun, and shield it from rain, wind and snow. Ideally ensuring the cladding honeycomb panels look great, last long and the inhabitants feel good.
● Marble aluminum honeycomb panel colour and finishes can be customized to meet clients design demands.
●Simple and fast installation.
● Big size honeycomb panel with extreme flatness.
● Outstanding quality and durability, low cost and anti wind performances.
1.The Detail Of Marble Aluminum Honeycomb

The stone texture pattern is nature, beautiful and generous, and different from traditional single color style of decoration. With fresh
and stylish, elegant and delicate style,this kind of panel create a unique decoration style. The stone texture aluminum panel is a
high-grade metal decorative material, which is high grade aluminum alloy, basing on the dimension, shape and structural form of
the engineering design at site, after technical forming including CNC bending and some other treatment ,then fluorocarbon
spraying paint on the surface and cover with italian stone wooden and stone texture film on the surface, the stone texture film
is transferred and printed onto the fluorocarbon coating of the aluminum honeycomb panel by vaccum press.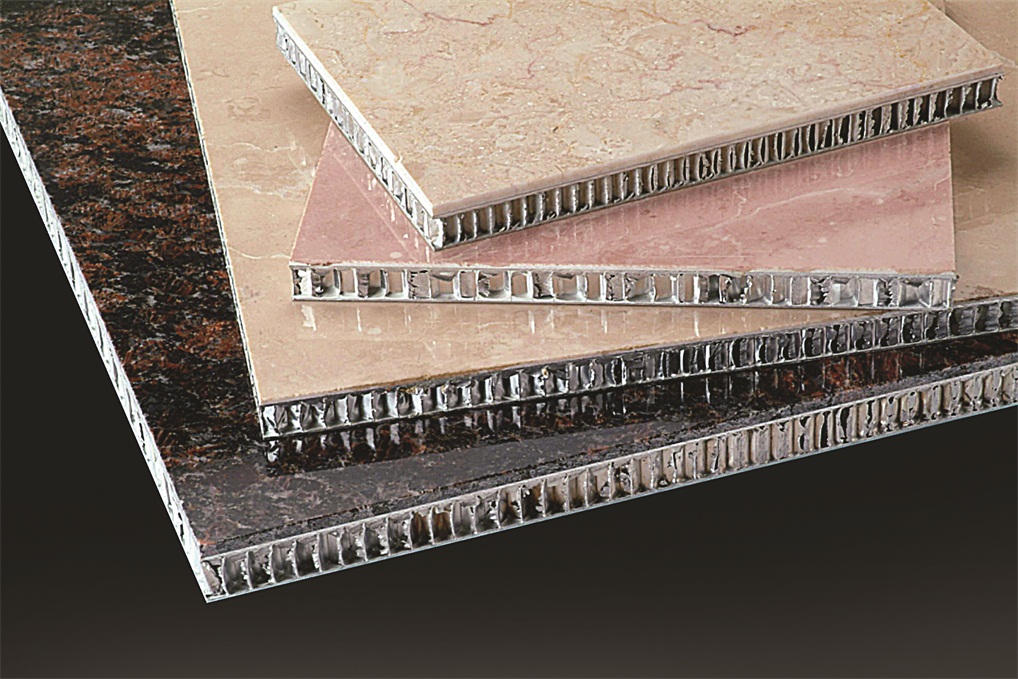 2.Aluminum Honeycomb Composiete Ceiling Features
Extremely Low Weight;.
Excellent Strength;
High Resistance to Moisture;

High Resistance to Corrosion;

Excellent Thermal Conductivity;

3.Aluminum Honeycomb Composiete Ceiling Description:
Aluminum Honeycomb Panels have the well-known advantage with their strength and lightness. The natural architectural design
makes the panel strong, meanwhile it remains as a light weight panel. It is available in different thicknesses for core and skin with
aluminium and polypropylene materials. It is widely used in the buildings and the other fields.
Road barriers to reduce road noise for residential areas;
Inside marine engine rooms to reduce noise pollution;
Railways and Stations;
Construction Panels for building work;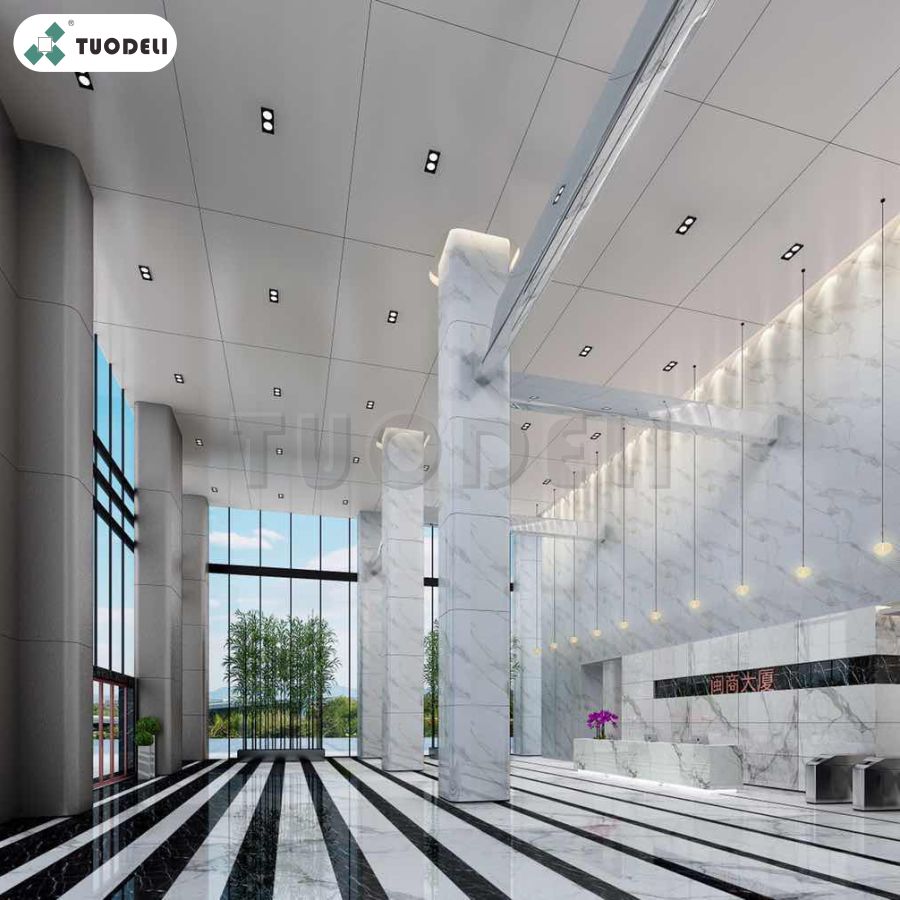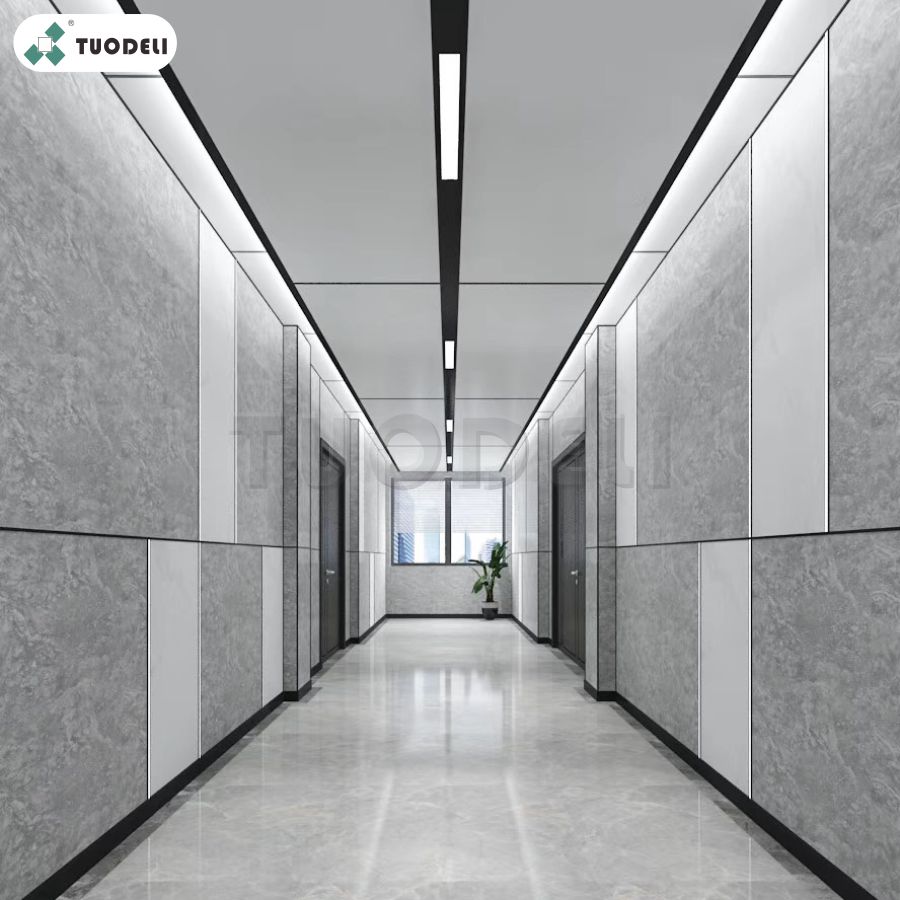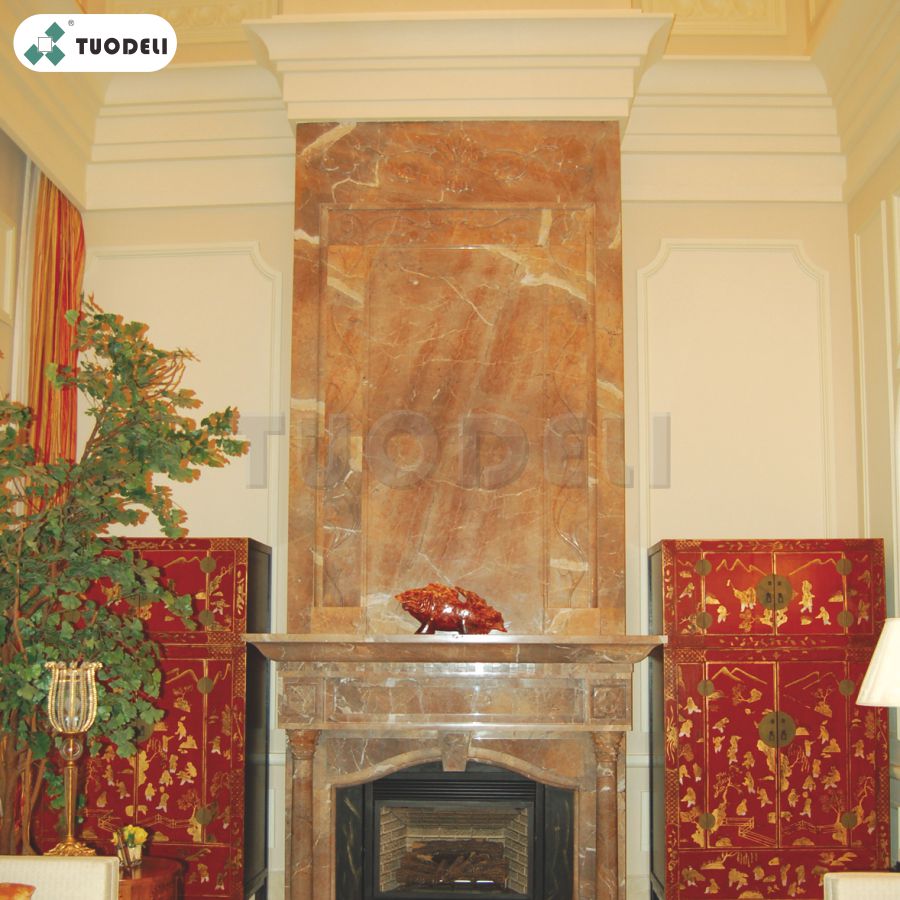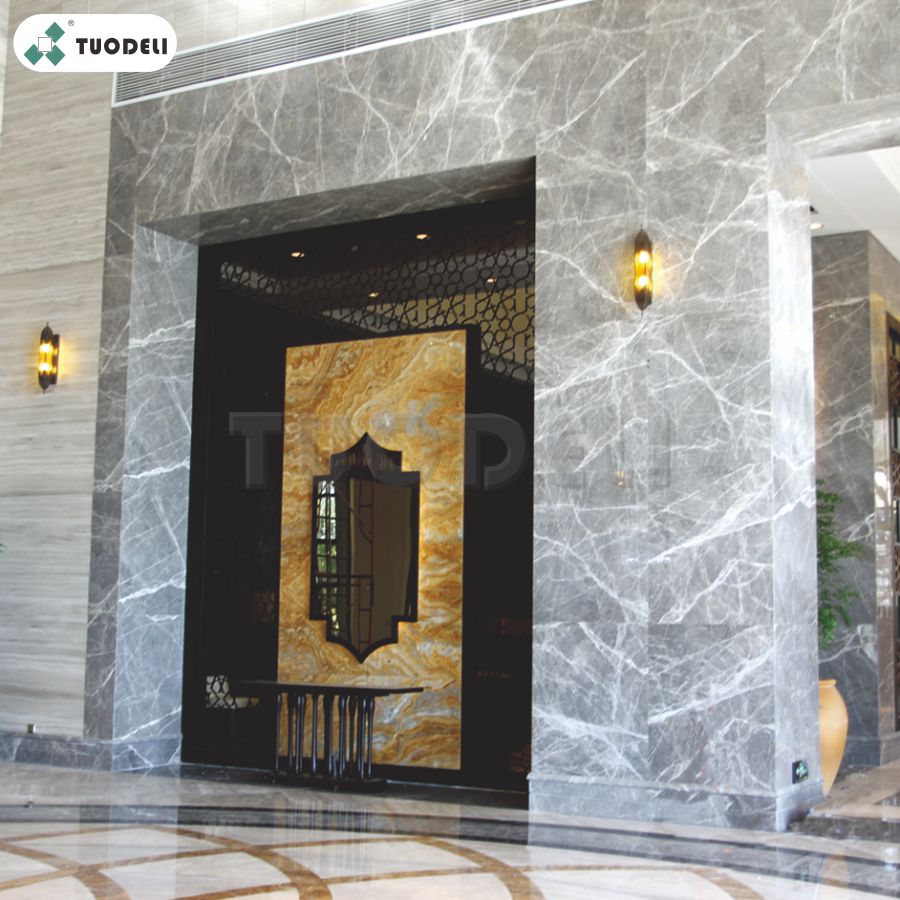 4.Advantages Of Stone Texture Lmitation Aluminum Honeycomb Panel

The stone textures are rich with vivid effect

The fluorocarbon coating paint layer is uniform, firm and wear-resisting
The shape and thickness can be customized to meet the different contruction requirements
Easy to be installed and maintained, saving construction cost
The quality is guaranteed, long lasting and durable
Green and environment friendly, 100% recycled
5.Surface Finish

Powder coating/Heat transfer/PVDF Painting
6.Application
Indoor design: home ceiling decoration, wall decoration,office decorative.
Exterior design: Villa facade, plaza
7.Aluminum Honeycomb Composiete Ceiling Patten:
Punching drawings can be adjusted to customer requirements, such as the purchase of large quantities, can be customized mold.
8.Product Raw Materials

Aluminum panels:high quality 3003H24 alloy aluminum sheet or 5052AH14 high manganeses alloy aluminum sheet as the base material
Back aluminum sheet:0.5~1.0mm aluminum sheet
Aluminum honeycomb:3003H18 type aluminum honeycomb core, with aluminum foil thickness is 0.04~0.07mm,edge depth is 5~6mm.
Adhesive:two-component of polymer epoxy film and two-component of modified epoxy resin
9.Stone Style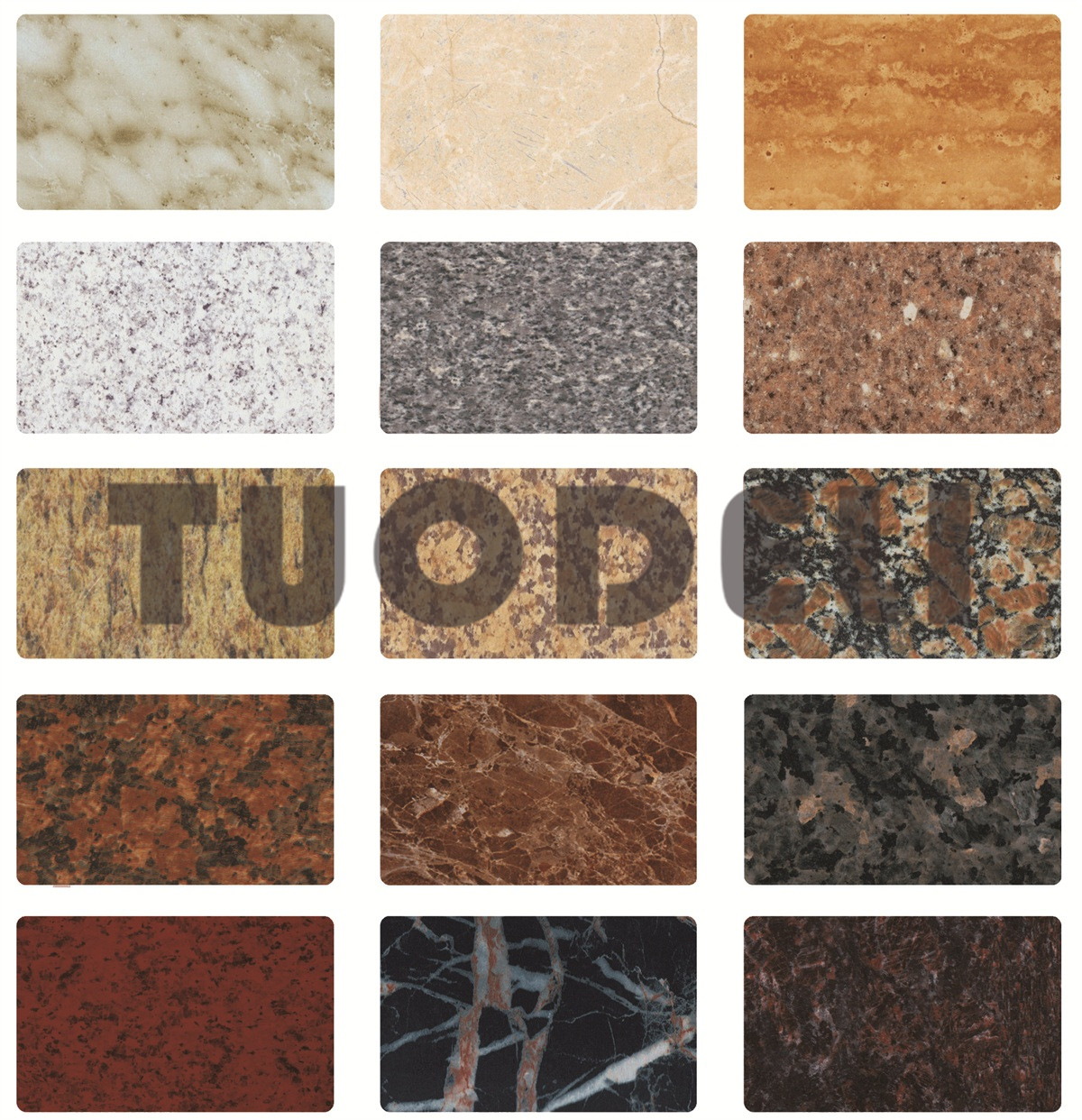 10.Design Case